High Volume Quotes
Caterers Warehouse offers a number of specialized programs to High Volume Customers that purchase in high quantity, thus allowing you optimize purchases of equipment for large single or multi-location facilities. Please complete the form below and describe to us your procurement needs.

You may also contact www.catererswarehouse.com by fax, with any request for information. Our fax number is (508) 892-9745. Please complete all information detailed below for maximum discounts and savings.

One of our Account Representatives will be contact with you shortly to discuss in detail your equipment supply needs.


Summer Savings Flyer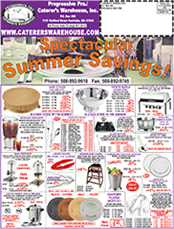 View Here


Product Showcase
Trophies, Awards, & Engravables

1000+ Items for your Event!
View Here